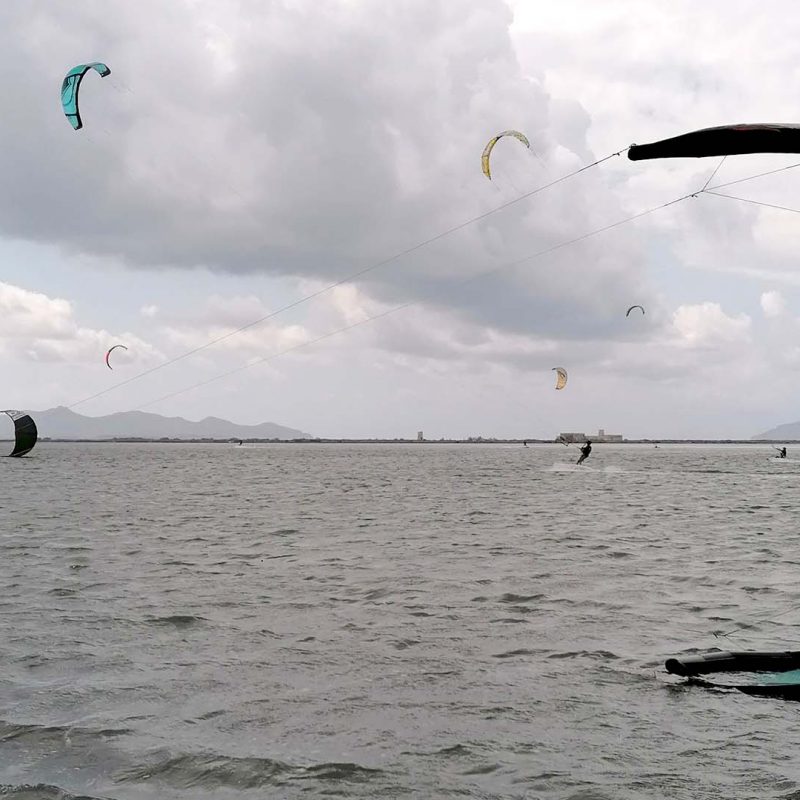 Wingfoil Courses at the Stagnone lagoon in Marsala
LESSONS AT ALL LEVELS
Easy to use, easy to learn, Wingfoil is a new amusing way to practice watersports in light wind conditions. Our Staff will teach you how to practice it in a very short time. Originally developed downwind on a surf foil, Wingfoil is a mix between windsurf and kiteboarding.
As with the other board watersports, Wingfoil was born in the Hawaii Islands. It may appear very similar to Windsurf to some extent, since they present several features in common; however, Wingfoil is definitely different since the sail used is a handheld wing sail, detached from the board, which allows a maximum freedom of movement.
At the Stagnone Lagoon, conditions are ideal for Wingfoil training sessions. WindBusters School is moreover the only school settled in a deepwater area of the lagoon, where you can easily practice Wingfoiling with no worries about the depth of the seabed.
LESSONS GUARANTEEED EVERY DAY


Our courses are individual, with an instructor focused only on you. Our licensed instructors can speak Italian, English, Spanish and French.

SUPPORT BOAT
When necessary, you can rely on our support boat: it will quickly bring you back upwind, avoiding unnecessary waste of energy.

HIGH-QUALITY SPORTSWEAR

Brand-new equipment every year by Slingshot, one of the few brands with a wide range of Wing and Foil gear.

SAFETY FIRST

Far away from the most crowded hubs where other kitesurfing schools operate, we are settled in a safer area of the Stagnone Lagoon, with much more space and less kiters in the water. Besides, our instructors are also licensed in first aid assistance.

What makes us different from the other schools at the Stagnone Lagoon:

1. Location: the WindBusters School is placed at the very beginning of the southern side of the Lagoon, where the water is flat enough for a quick development in kitesurfing skills, but also deeper and more suitable for foiling sessions.

2. Tailor-made courses are adapted to the previous experience and skills of the learner, in order to optimise time during the course and not to waste it in developing coordination skills the learner might already have.

The WindBusters main training objective is to help you get the best results. This is the reason why our courses are always individual (a single instructor for a single learner), for a constant and customised training which aims for quality instead of quantity.
Duration: 5 hours
Wingfoil Basic Course
The course has a duration of 5 hours, made up of 1 hour of theory and 4 hours of practice, possibly distributed into 2/3 days.

The theoretical part focuses on the following topics: wind different directions (the wind compass) and their intensity, safety rules, wind window, right of way, S.E.A. assessment (Spot, Environment, Activity) and equipment assembly.

The practical part focuses on your first Wingfoil flights: you will try on a SUP board at first, then you will experiment waterstart and water gliding on a hydrofoil board. You will train step-by-step to balance your body in the space and on the board, and to manage your wing sail. We provide you with all the equipment.

€350
Contact us

Duration: 3 hours
Intermediate Course
A 3-hours package of intermediate lessons will help you improve your skills and refine some different techniques. You will train on waterstart and approach your first gaits.

A WindBusters School instructor will monitor you all the time using a radio, in order to correct you in real time and speed up your training.

€210
Contact us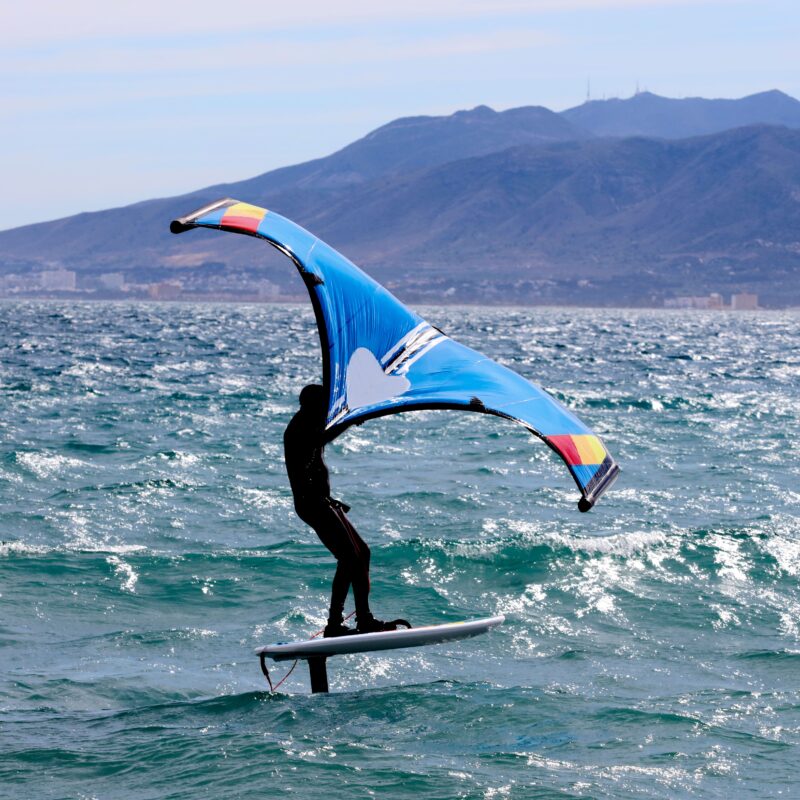 Duration: 2 hours
Advanced Course
If you are already able to manage waterstart at this point, you can go further with gaits and jibes.

• Waterstart and Pumping
• Wing Pumping
• Foil Pumping
• Jibes

Our licensed instructors, with an over ten years' experience, will make your dreams come true, training you step-by-step in several tricks. Besides, if you love riding waves, they will guide you in your first wave riding. As with the other courses, our School will provide you with all the proper equipment for this level.


€160
Contact us